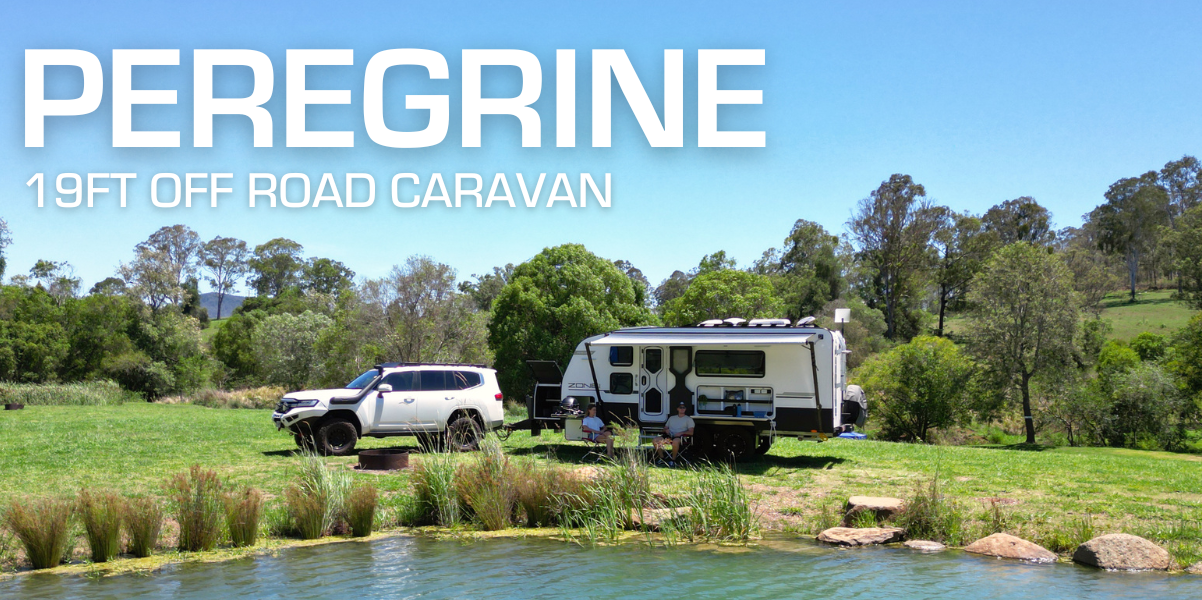 19FT OFF ROAD CARAVAN
Are you ready for the off-road adventure of a lifetime? Look no further than our 19ft Peregrine Australian-made off-road caravan! Specially designed to conquer rugged terrain, the Peregrine combines innovative lightweight construction methods with all the features you need for the ultimate off-road experience. With a full-sized Queen bed, it's perfect for adventurous couples seeking comfort and exploration.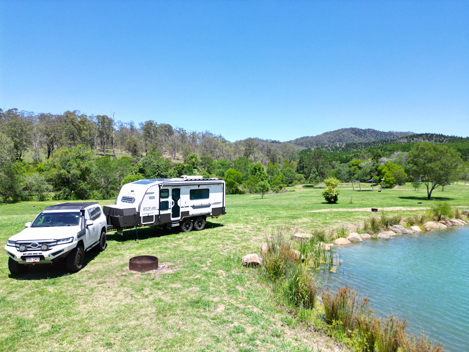 LIGHTWEIGHT
Experience the lightest caravan on the market, backed by our innovative composite construction.
OFF-ROAD
As an industry leader, we pride ourselves on delivering exceptional off-road capabilities and uncompromising quality.
INNOVATION
Our focus lies in delivering performance, technology, and function to ensure an exceptional experience.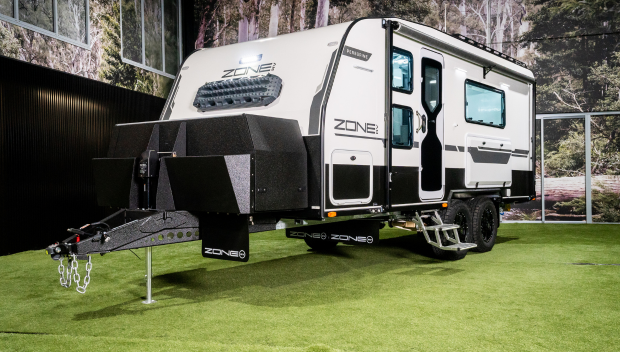 PIONEER SPECIFICATION
The Pioneer specification is our entry-level specification, available for our Peregrine and Sojourn models. It includes a complete list of standard options, making it easy for you to get started on your off-road adventure. The Pioneer specification comes in a premium gloss white finish.
Overall length: 8.2m / 26.9ft
Body length: 5.8 m / 19ft
External width: 2.5m / 8.2ft
External height: 3.1m / 10.2ft
Internal height: 2m / 6.5ft
Starting Weight Pioneer: 2,579kg
Starting Ball Weight Pioneer: 180kg
CAN OPTION TO HAVE A LOUNGE INSERT
CAN BE OPTIONED TO HAVE 80L ISOLATED FOR DRINKING
Double step

Rear stabilizers

Premium outdoor kitchen

Lockable front storage box

Dual access full length tunnel boot

Electric power jack

Manual awning

Water filling points

Double entry door with security mesh

Dual view reversing camera with wide and narrow lenses
REDARC 200ah lithium batteries

REDARC 540w of solar

REDARC 3000w inverter

REDARC manager 30 and TVMS system

240L water storage with tank armour

100L poly grey water tank and bypass system

Input for external solar panel

Gas bottle with external banette
Gasless interior

Queen bed

Underbed storage

Bedroom storage areas

Internal kitchen

Undermount sink with mixer

Chrome fittings bathroom and kitchen

Chaise style lounge PU leather

Nature's Head composting toilet

Internal shower

Diesel water heater

24 inch smart tv

Overhead and lower storage cabinets

Bedside lockers

Central fan with rain sensing hatch

Twin bedside robes with hanging rail

Dual bin under kitchen sink
Hot dipped, galvanised chassis – made by Zone RV

Cruisemaster XT suspension with drum brakes

Cruisemaster airbag manual levelling system

17" alloy wheels

Cruisemaster D035 hitch and receiving pin pair of rated recovery points

Humminbird Electronics GPS odometer

1 spare wheel mounted
Fusion touch screen sound system, Bluetooth compatible
"Safety Dave" in-vehicle camera monitor
Thetford fridge/freezer (274l)
Dual induction cooktop
Portable single induction cooktop
Multiple 240v & 12v points
Internal
Ultra-light composite cabinetry

Café style lounge

Genuine leather seating
External
Automatic awning

18" alloy wheels

Second spare tyre

MAXTRAX

BBQ slide

Bike rack mount

Protection pack

Disc brakes

ATX Cruisemaster suspension

Automatic leveling airbags

Rear mounted ladder

Front stabilisers

DO45 hitch pin

WiTi security system
Appliances
Air conditioner

Washing machine

Microwave

TV antenna

Mobile phone signal booster
Off-grid
REDARC – Up to 800AH lithium batteries

REDARC – Up to 1060W of solar

Diesel air heater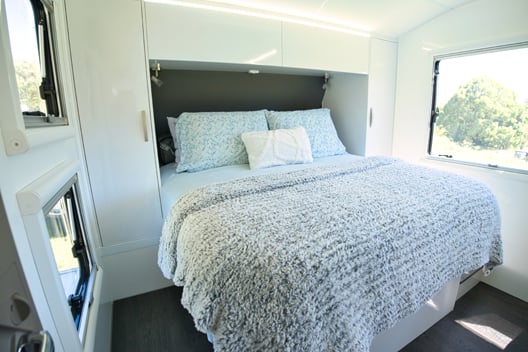 Bedroom
Queen size bed
Under bed storage
Dual Sirocco fans
Bedside windows
His and hers 12V charging points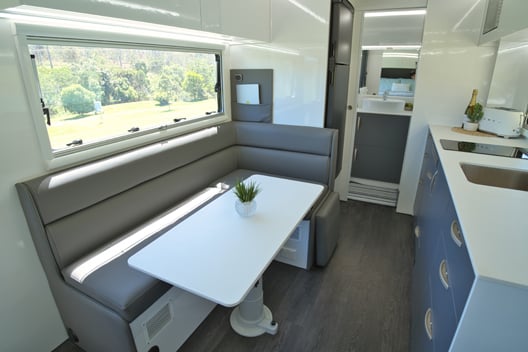 Living area
Chaise-style lounge
Centre table
Fridge/ freezer
Dual induction cooktop
Overhead and under-bench storage areas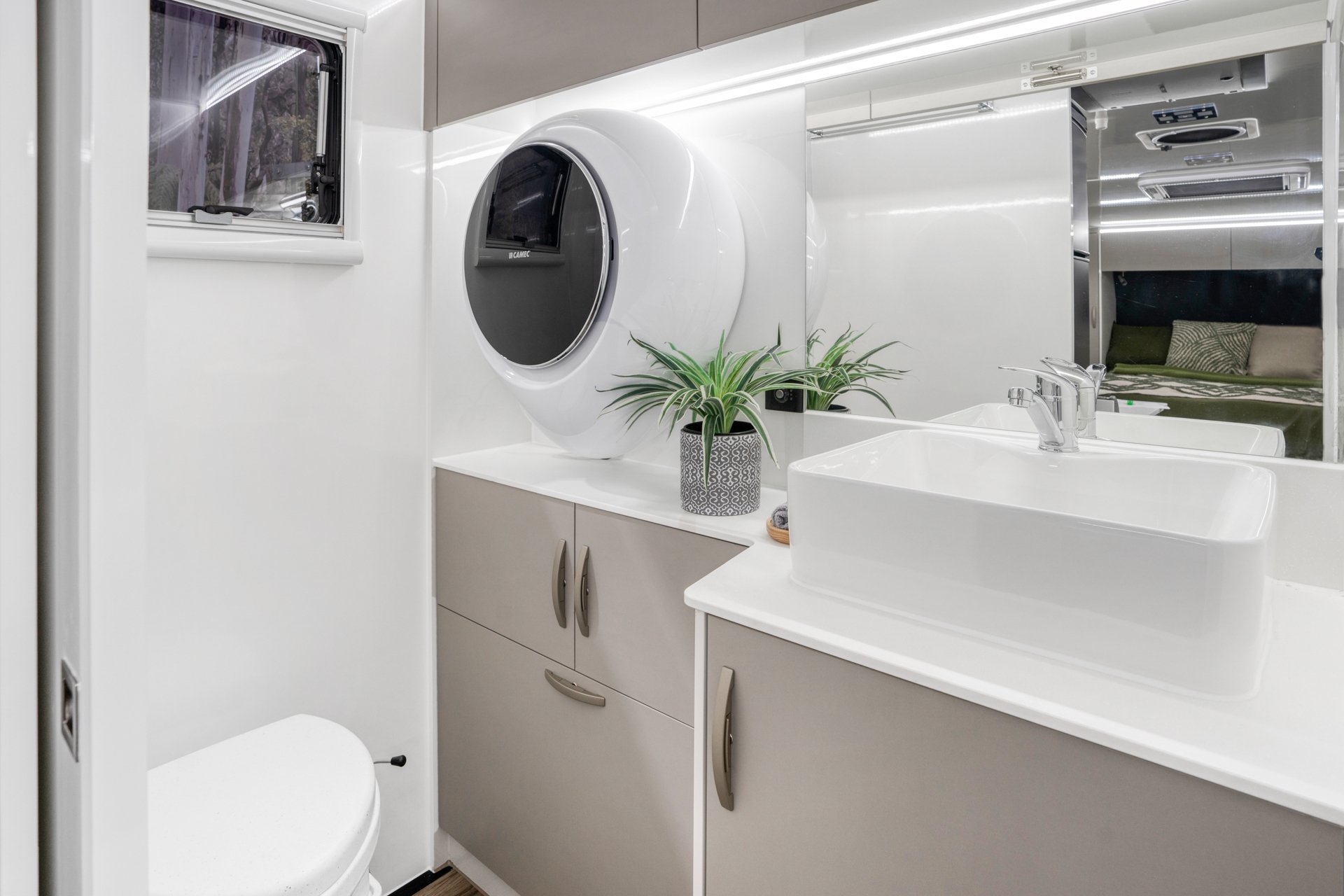 Internal Ensuite
Nature's Head composting toilet
Vanity mixer and basin
Separate shower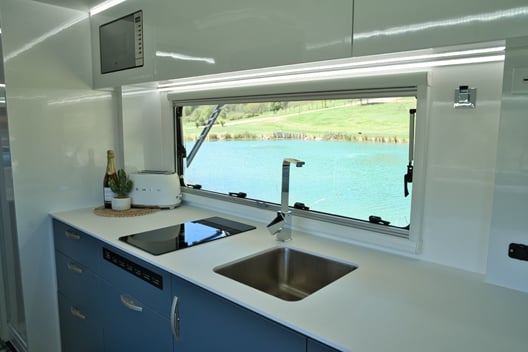 Kitchen
Dual Induction
Undermounted Sink
240v power points
Overhead storage
Under Bench cupboards and draws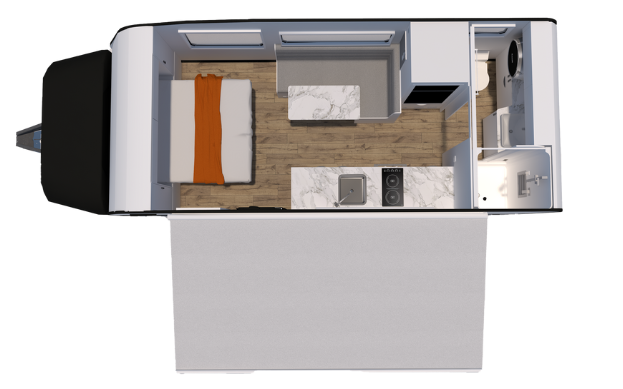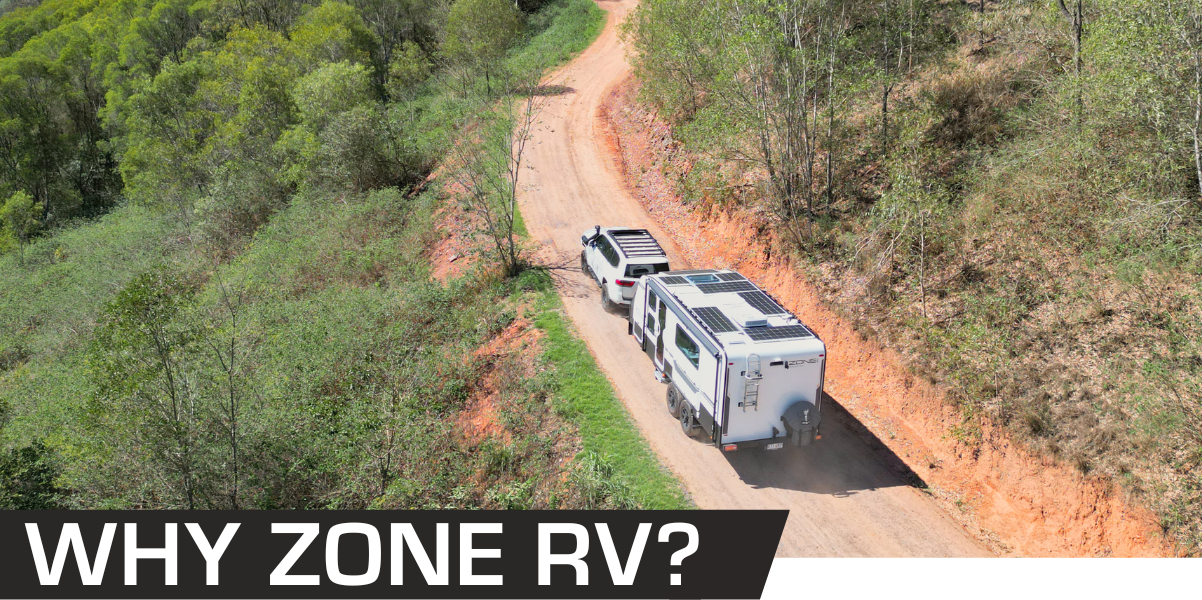 AUSTRALIAN MADE
When you invest in a Zone RV, you're investing in an Australian-made product from a company wholly owned and operated by Australians.
As leaders in the caravan industry, we are driven by a passion for innovation and a commitment to producing the highest quality products.
At our multiple Coolum Beach facilities, we use some of the most advanced manufacturing techniques in Australia. This allows us to continue pioneering the caravan industry and setting new standards of excellence.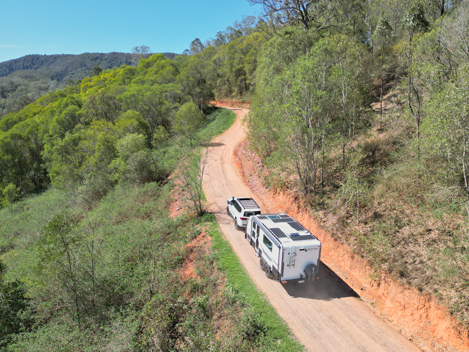 OFF GRID ADVENTURE
Our mission is to craft off-road caravans that foster unforgettable memories. We have a deep passion for helping you explore the most remote and off-grid locations.
The Zone RV range of off-road caravans is designed with this in mind. They boast an incredible array of features that are perfectly suited to off-grid getaways.
With their generous battery, solar, and water storage capacities, our caravans let you enjoy an extended break at your favourite off-grid camping locations – all without ever having to sacrifice the creature comforts of home.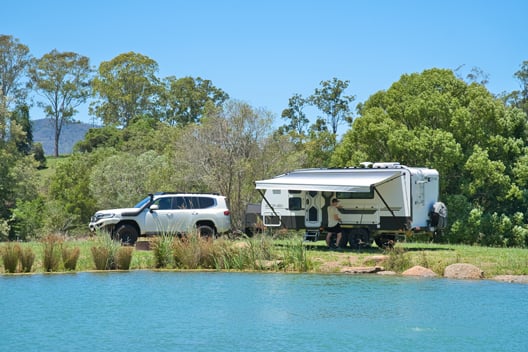 CHASSIS
Our hot-dipped galvanized steel chassis, proudly made in Australia by Zone RV, embodies an exceptional blend of strength and lightweight design. Crafted from top-quality materials and undergoing meticulous galvanization, this chassis boasts unparalleled durability and corrosion resistance. Every inch of the chassis is fully coated through the hot-dipping process, providing comprehensive protection against the elements and extending its longevity. Despite its robustness, the chassis maintains a remarkably light weight, enhancing towing capabilities while preserving structural integrity.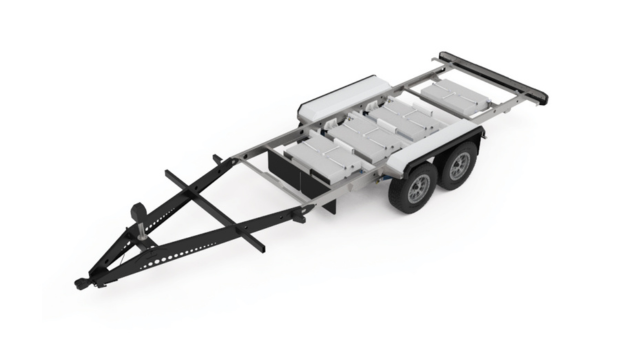 BODY CONSTRUCTION
At Zone RV, we have revolutionized our vans by eliminating all gas components from the interior. Experience the full gas-free lifestyle inside your van with the removal of gas regulation vents and the inclusion of a double induction cooktop in the kitchen, complemented by a standard diesel hot water system. Our powerful Redarc battery system perfectly complements this setup, offering the ultimate off-grid adventure experience.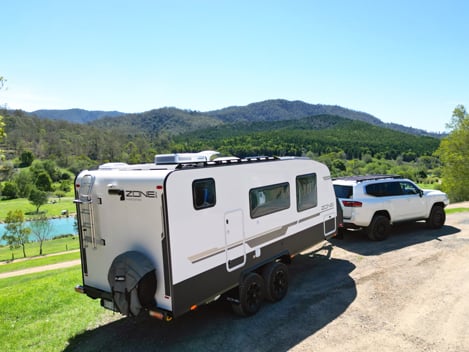 GAS-LESS INTERIOR
We have taken our vans to the next level and completely removed all gas products from inside the van. We have removed all gas regulation vents paired with double induction cook top in the kitchen & diesel hot water system as standard to give you the full gas free experience inside your van. Paired with our powerful Redarc battery system, this is the ultimate setup for your next off grid adventure.

And don't worry, for our customers who still love to cook on a gas barbecue, we will still have gas bottle storage in the front toolbox for your external barbecue needs.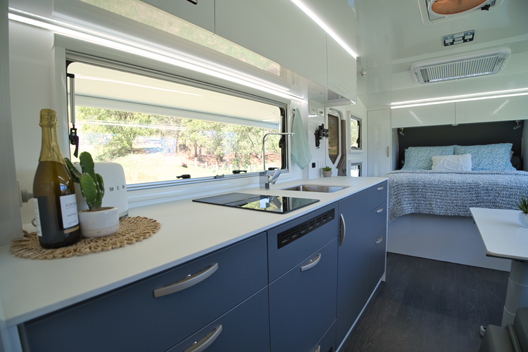 COMPLIMENTARY ROADSIDE ASSISTANCE
At Zone RV, we prioritize your care-free caravanning experience. We provide 12 months of complimentary roadside assistance which includes unlimited callouts for your car and caravan. Our national network of service vehicles covers you across Australia, and accessing assistance is as easy as a phone call. Enjoy peace of mind knowing both your Zone RV caravan and towing vehicle are protected.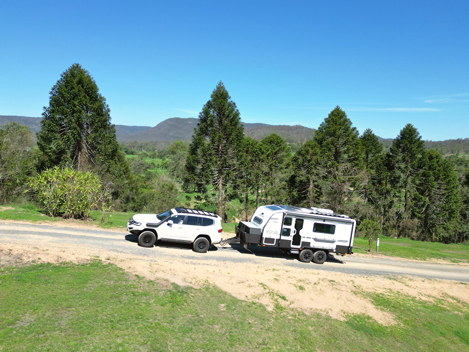 THE SUMMIT EXPERIENCE
We pride ourselves in being able to deliver what we call the "Summit Experience" to all our customers. The Summit Experience is the highest level of customer service reaching the peak of expectations.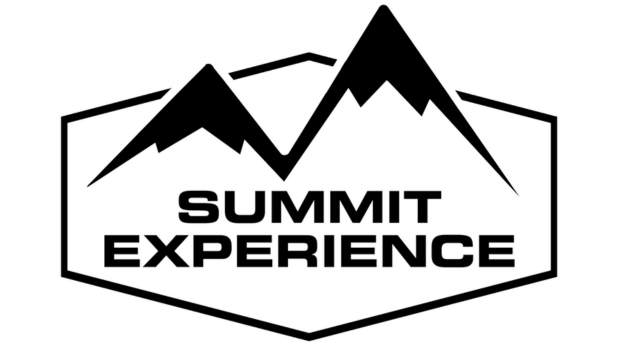 SERVICING
As our customer, we value your satisfaction and safety above all else. That's why we offer a comprehensive service after the first 1000km of use, to ensure that all components are operating at their best after handover.
Our team of expert advisors and technicians will go above and beyond to accommodate your needs and get you back on the road with complete peace-of-mind.
What's more, we have established a national footprint so that you'll find an affiliated service workshop in your closest city, no matter where you go.
WARRANTY
We believe that any off-road adventure relies on the durability and reliability of the vehicle that creates the experience for you. That's why we take pride in the strength and dependability of our Australian made off-road caravans.
We spare no expense in engineering and testing our vehicles to ensure they provide you with the Summit Experience.